Twenty days ago, just before the first presidential debate, Hillary Clinton's lead over Donald Trump in our projected electoral college map was down to the 29 electoral votes in Florida.
Following the first debate, and the release of a tape from 2005 where Trump is heard making lewd comments about women, his campaign unraveled and his poll numbers have fallen through the basement.
A trio of new national polls released yesterday were terrible for Trump. The Monmouth University poll showed him trailing Clinton by 12 percentage points. A CBS News poll put him down by 9 points, and a George Washington University poll, which traditionally leans Republican, had him 8 points back.
More importantly, battleground state polls show Trump losing everywhere but Ohio, and his campaign has now officially written off  Virginia and Colorado, a 22 electoral vote gift to Clinton. That has allowed her to refocus efforts in Ohio, and two other key states that Trump must win, North Carolina and Florida.
Trump is within days of being out of time to turn this around, and we may be able to make a confident prediction on who will win, and the margin, in ten days. We are close enough to the election to now cement 43 states firmly in place.
Here is our forecast model with 20 days to go until the election, it takes 270 electoral votes to win: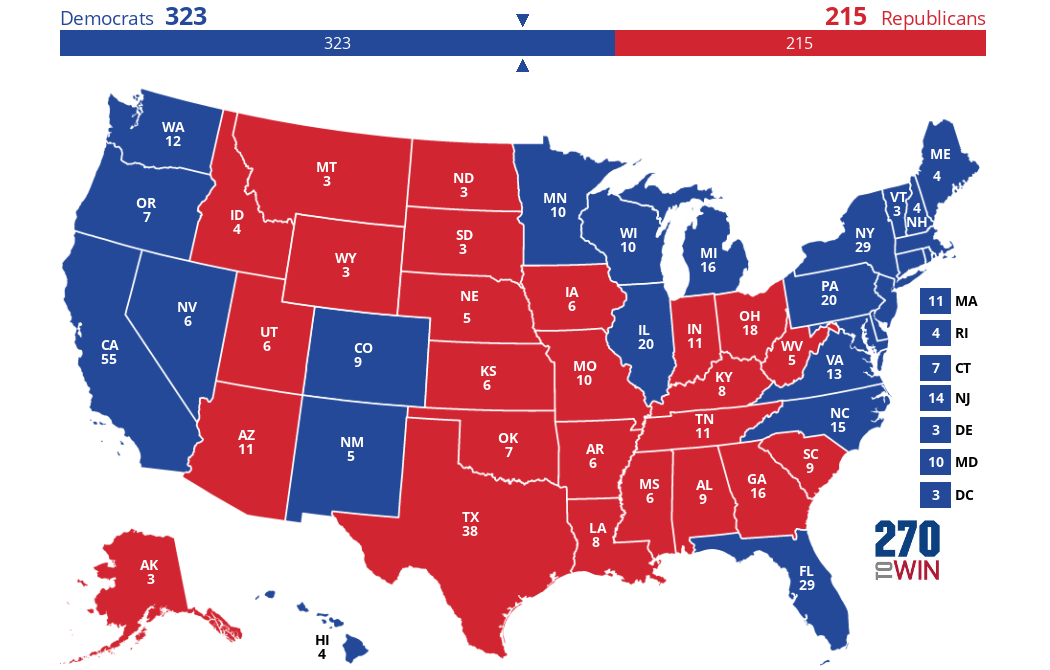 Click the map to create your own at
270toWin.com
CLINTON 323 ELECTORAL VOTES – TRUMP 215 ELECTORAL VOTES
What's most remarkable from our last report is how Clinton has solidified almost all of the key battleground states, including, Virginia, Colorado, North Carolina, Pennsylvania and most importantly Florida.
Here's a closer look at what's happening. Note the two shades of red for Trump (pink less than 1% lead), and two shades of blue for Clinton (light blue less than 1% lead).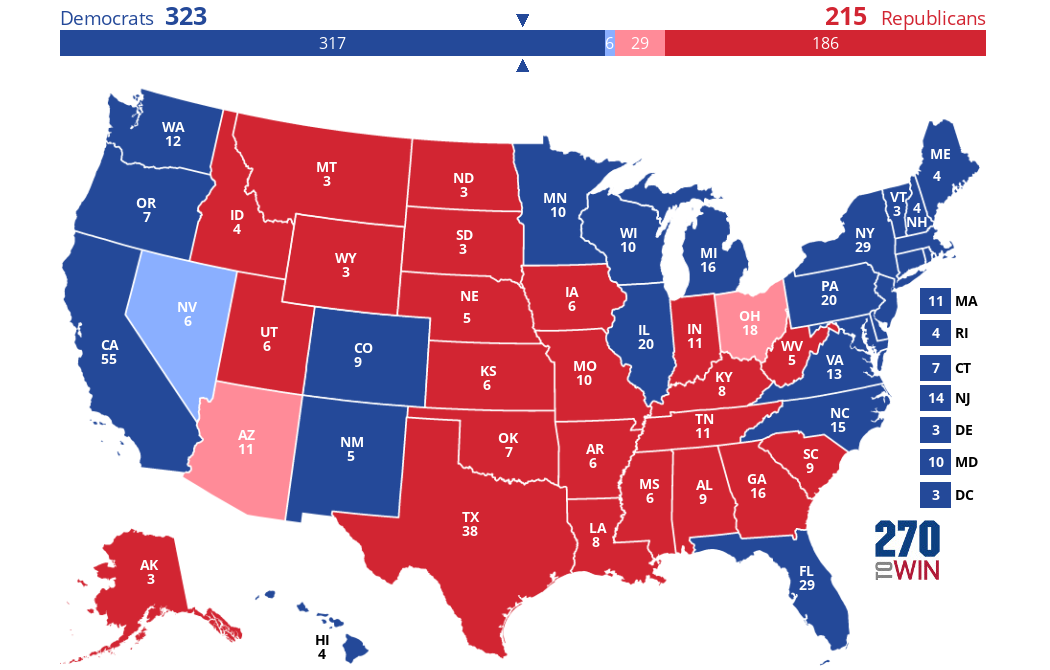 Click the map to create your own at
270toWin.com
CLINTON: 317 FIRM (dark blue) 6 LEANING (light blue)
TRUMP: 215 FIRM (red) 29 LEANING (pink)
This is a strong map for Clinton and a new poll out today shows her with a decisive lead in Nevada, the last of her "leaning" states. She is at 317 "firm" electoral votes, well above the 270 she needs for victory.
Trump's campaign has officially pulled resources out of Virginia and Colorado, and he is now in grave danger of losing traditionally red Arizona, so all of his chips are in Ohio, Florida, North Carolina and Pennsylvania. Can he turn all four around to barely reach 270 electoral votes?
OHIO EDGE TRUMP: Trump's lead is down to .06 percent. First the good news: Early voting is way down compared to 2012 among Democrats in Cuyahoga County. That's a warning bell for the Clinton camp. That, plus Trump's popularity among working class Democratic voters near Youngstown could tip the state his way. Now the bad news: Trump faces opposition not only from Clinton and Democrats, but Gov. John Kasich, Sen. Rob Portman, Ohio GOP chairman Matt Borges, and the conservative editorial boards of both the Columbus Dispatch and the Cincinnati Enquirer. Together they could help influence a lot of suburban white college educated Republican voters — especially women — to vote their conscience and not their party.
NORTH CAROLINA EDGE CLINTON: Barack Obama carried this traditionally Republican state in 2008, but lost it to Mitt Romney four years ago. Trump should have locked this one away weeks ago, but Clinton now has a persistent lead in the state of 2.7 percent. The only good news for Trump is that he slightly leads Clinton among white women which is keeping him competitive. If Trump can't win the 15 electoral votes in the Tar Heel State, he has virtually no path to 270 electoral votes.
FLORIDA EDGE CLINTON: This is the granddaddy battleground state with 29 electoral votes and Trump will lose in an electoral vote landslide if he fails to win here. Clinton's lead is now 3.6 percent and the state continues to trend her way. Clinton is crushing Trump among millennials by a three-to-one margin. She is also dominating among Latinos, independents and women. Unlike Ohio, the early voting for Democrats has been high. Clinton has also been endorsed by the states largest newspapers, including those with conservative editorial boards in places like Orlando. If Florida is called for Clinton relatively early on election night, she is on her way to a blowout win.
PENNSYLVANIA FIRM CLINTON: Donald Trump cannot win here. He thinks he can, just like Mitt Romney, John McCain, and George W. Bush all did. But this is a state that has gone blue since 1988 and no Republican candidate has been able to crack it. Clinton's lead is now 6.8 percent, way above the average we have been using to consider a state solid for a candidate. The only reason we haven't painted it solid blue is the amount of time and resources the Trump campaign is pouring into this state. Why so much? Because even if Trump manages to win Ohio, North Carolina and Florida, he will still need more electoral votes to reach 270. His campaign figures Pennsylvania is their best bet, but Democrats are privately snickering at the choice.
OTHER NOTES:
Clinton continues to outspend Trump on the airwaves in battleground states by about a 5-1 margin. In addition, she has a field operation in place that could be the best of any modern campaign. Trump's field operation, especially in Florida and Ohio, is significantly behind where Mitt Romney's was at four years ago.
The final presidential debate tomorrow night could give us an indication of how well Trump will take defeat. He has already been accusing the election of being "rigged" even though Republicans are in charge of the elections in almost all of the battleground states. Almost half of Republicans thought ACORN had "stolen" the election from Mitt Romney in 2012, even though the group had disbanded in 2010. So the likelihood of Trump helping to bring the nation together after election day seems small.